中文版
Originates from:
Official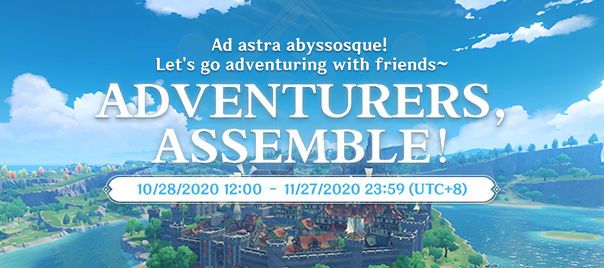 Dear Travelers
The "Adventurers, Assemble!" invite event has officially begun!
Participate in the event for the opportunity to receive Mora, artifacts, Primogems, and other rewards!
〓Event Duration〓
Now – 2020/11/27, 23:59 (UTC+8)"
>>> Click Here to Participate <<<
〓Event Rewards〓

〓Event Rules〓
1. If your Adventure Rank is equal to or below 7, you can go to the "Link Friend" page to enter another Traveler's invitation code and create an Adventure Bond with them.
2. If your Adventure Rank is equal to or above 15, you can go to the "Invite Friends" to obtain your own invitation code. When a New Adventurer enters your invitation code, you will be linked with an Adventure Bond. You can check the invitation status of each New Adventurer in "Invite History".
3. After reaching Adventure Rank 15, each New Adventurer will also receive their own invitation code that can be used to invite other eligible Travelers.
4. Each Traveler's invitation code can be used to invite up to 10 other players. Each Traveler can only accept a single invite.
5. Event rewards will be distributed via in-game mail. The message will expire after 30 days, so don't forget to claim your rewards in time.
6. The event is open to players on the America, Europe, Asia, and HK/MO/TW Servers on PS4, iOS, Android, and PC. PS4 players should participate from within the game.
7. The Genshin Impact Official Community Team reserves the right of final interpretation of this event's rules.
*The event data may be subject to some delay. If you have reached the required Adventure Rank and cannot claim the corresponding reward, please try again after a while.
Extra Social Media Prize
In addition, Caroline will randomly select 30 Travelers who complete the below social media tasks to receive an AirPods Pro!
Task Details
1. Post your event invitation code and UID in the Comments section of our official Genshin Impact Facebook, Twitter, or Forums.
2. Successfully invite at least 2 new adventurers, and those 2 adventurers reach Adventure Rank 15.